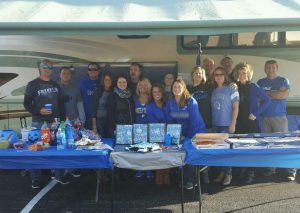 On behalf of the football team and parents, we invite you to become part of the Franklin Football tradition by joining Griz Club and help support all levels of our football family. Our purpose is to promote pride, respect, spirit and unity among Franklin's football players, student body, staff, coaches, family and community.
The GRIZ CLUB will coordinate many fundraisers and activities throughout the year and we hope you will join us in volunteering and participating to help support our Grizzly Cubs. To learn more about how you can become involved, email us at FranklinGrizClub@gmail.com.
In addition, the GRIZ CLUB provides supplementary financial support essential to a successful program. This includes financial assistance for items such as:
Cameras and AV equipment

Additional coaching staff

Support for players in financial need to purchase cleats, attend camp, etc.

Player game day meals and snacks

Videographer to post game film and highlights after every game

Annual FCHS football awards banquet 
Join today to help support our Griz Cubs! CLICK HERE
For more information or questions please CONTACT US via email at FranklinGrizClub@gmail.com or by mail at 2600 Cumberland Dr. Franklin, IN 46131.